Two Words.  #YouMatter!
These two words can change a heart, change a mind or change a world.  When is the last time you heard #YouMatter?  When is the last time you told someone else that they MATTER?
Inspired by the millions touched by Angela Maiers, Founder of Choose2Matter, the Movement of Mattering has already swept across the globe challenging us to make "mattering" a way of life, and is continuously fueled by people just like you.
Kids are sending shoeboxes filled with MATTERGRAMs to soldiers overseas, teachers are sending handwritten MATTERGRAMs to their colleagues, employers are pushing MATTERGRAM carts filled with goodies for their employees.
That's why we decided to make it even easier to send a MATTERGRAM. Visit MATTERGRAM.com today to send someone you care about a MATTERGRAM!
In the meantime, here is a MATTERGRAM for you!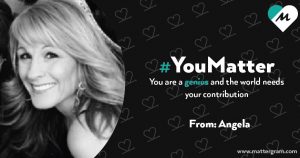 Follow us on Twitter @MATTERGRAMS